Eighth grade grapplers get started early through wrestling association
---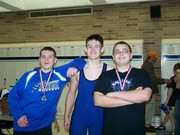 Eddie Davidson, Michael Harlan and Anthony Torres.
---
The Kalkaska Grapplers have been practicing twice a week to prepare for their weekly wrestling meets.  Although the Kalkaska School's wrestling program is not quite yet underway, these boys (and some girls, too!) are wrestling with NEMWA, or the "North Eastern Michigan Wrestling Association."  Head coach Sam Matthews, and other coaching volunteers, spend their Saturdays, starting at the beginning of January, in places up to two hours away.  On Saturday, January 19, 2013, the wrestlers go to Clare for their meet.  They would love to see you there!
---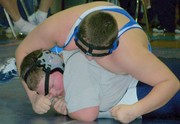 Anthony Torres pinning his opponent.
---